The Eachine E010 is a fun and cheap little 4inch (10cm) quadcopter, with a cost of $11.99, and free shipping. At the time of publishing, the E010 is $9.60 from Banggood's chinese warehouses. I don't recommend spending money on expedited shipping. In my experience it takes just as long, but thats another post.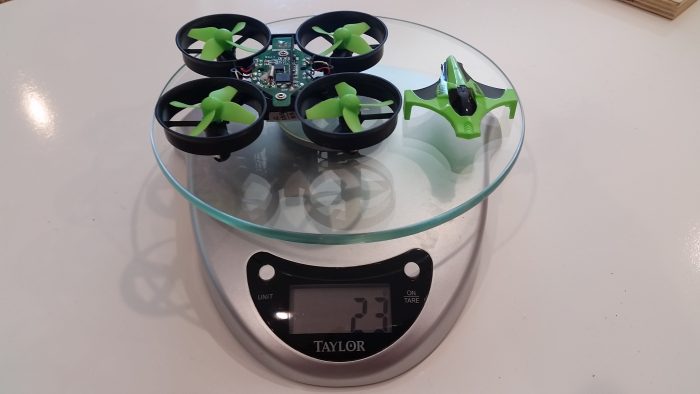 Since the E010 came out, the e011 and e012 have come out. But the E010 is the the cheapest platform one can buy to build a micro fpv quadcopter, or really just get into the hobby.
The included 150mah 30C lipo charges in about 20 minutes, and gives the stock E010 a 6 minute and 15 second of flight time, with average flying.
After soldering an all in one fpv camera transmitter to the board (see images), the flight time decreased by 2 minutes and 45 seconds.
Modifying the props from 4 blades to 2 blades improved flight duration, and brought it back up to 4 minutes and 30 seconds. The 30C battery seemed to be unable to consistently keep up with thrust requirements in the last minute of fight, and a higher rated 45C 240mah battery is on the shortlist of future upgrades. The longer list includes higher efficiency higher power coreless motor upgrades, and maybe even a TX mod.
In the Eachine E010 stock configuration, the 30C 150mah battery is plenty sufficient. For the sake of flying fun and user experience I would recommend picking up extra batteries and a bulk charger, and I strongly recommend buying a few spare frames if your home has anything but carpet, or inexperienced flyers will be flying it.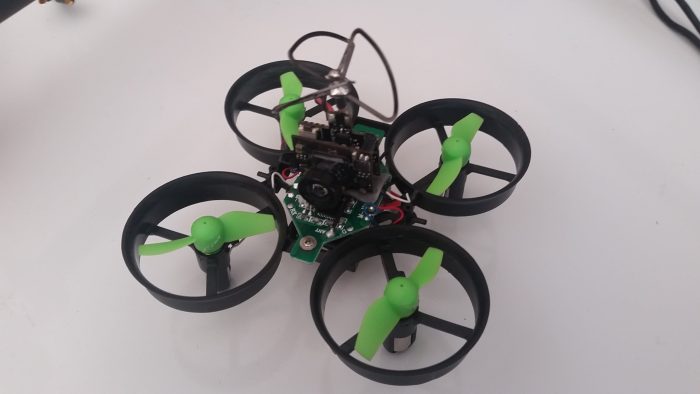 It's not a two thousand dollar agricultural quad or hexacopter with all the gps, black box, OSD, bells and whistles. But for the cost, the E010 is a phenomenal quad experience. For less than the cost of a blockbuster flop, the Eachine E010 provides a lot of quad flying fun and pilot experience.
For the size, performance, cost, and all things consider, the only drawback is a shitty transmitter/controller. It feels a little rough and grainy, and its quite small, but then again its about what you could expect for the cost of a six pack.
Stock
Weight:23g
Flight Time: 6 minutes 15 seconds
Battery:150mah 30C
Charge Time: 20 minutes
FPV Mods
Weight:26g
Flight Time: 3 minutes 30 seconds
Battery:150mah 30C
Charge Time: 20 minutes
FPV w/2 Blade Prop Mod
Weight:26g
Flight Time: 4 minutes 30 seconds
Battery:150mah 30C
Charge Time: 20 minutes
Buy the E010 off Banggood for $11.99 https://goo.gl/gEVst3
Buy the E010 off of Amazon for 24.99 https://amzn.to/2orN8pd
Update 11/19:
Cheap FPV goggles, spare/upgraded batteries, Better Transmitter
5.8Ghz FPV Goggles, Arris VR-009 – 49.99
Micro FPV AIO 600TVL Camera 5.8G – 18.99
Spare Batteries w/Charger: 6pcs 3.7V 150MAH – 9.99
Upgraded 45C Batteries: 5pcs 3.7V 260MAH 45C Lipo – 28.99
Radio (you could always just buy a new flight control board, and flash a firmware like Betaflight, and use the tx of choice)
I am using a iRX6 Multiprotocol TX Module for FS-i6 i6x with an iRX6 Multiprotocol TX Module for FS-i6 i6x that allows me to control Eachine RC products, and a multitude of others from my big radio. It' much better than using the included mini controller.
Fun times in Mammoth Lakes, at FPV night.