I saw the
Racerstar 2212 920kv
Motors on the interwebz, and thought they'd be a nice efficiency upgrade over my budget 2212 1000kv generic motors. I mainly wanted to get away from collet mounted props on small smooth shafts.The Racerstar motors are self tightening, and do away with a lot of prop loosening, and prop loss issues I was having. Some of which caused crashing and damage. The specs are good, and from some number/calculations they should lend themselves to my 3s setup, designed for efficiency and payload quite nicely. I'll time some flights with some budget 3s batteries.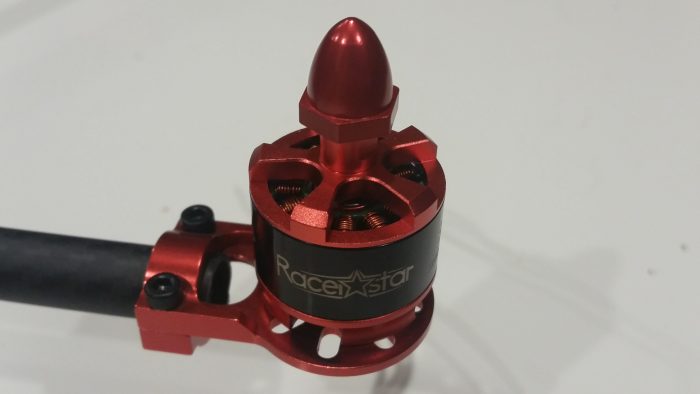 Whats obvious looking into the motor stators and looking at the overall finish is that its well made. Or at the very least, much better than I expected for the price point(cheap from china, less cheap from amazon). The anodizing is nice, the windings look tight, wiring is solid enough, blah blah blah. Manufacturer specs are below the pictures, but the proof is in the pudding.
After doing some calibrating and adjustment on my Racerstar 30a lite ESCs in BLHeliSuite, the motors started running really really smoothly. The Racerstar 30a lite ESCs are also really great, but I did have a hell of a time diagnosing an issue with two out of my six ESCc.
Turns out the different factory lines or warehouses let two slip out without firmware, or with corrupted firmware…? I have a whole crazy gripe about it in the multirotors section.
Brand: Racerstar
Item No: BR2212 920KV Brushless Motor
Height: 30mm
Width: 27.7mm
Weight: about 50g
Shaft: 6mm
Shaft length: 7mm
KV (rpm/V): 920
Voltage: 7.4-14.8V
Battery: 2-4S lipo battery
Tested with 11.1V voltage and 1045 prop:
Load current: 9.5A
Pull: 642g
Power: 105W
Efficiency: 6.1 (g/W)
CW screw thread motor comes with red cap, CCW screw thread motor comes with black cap