There are probably enough 3018 Desktop CNC reviews on Youtube, so I decided to post something useful about it, without reviewer bias. I bought mine, I didn't receive it in exchange for a review, or to create a video with exclusive coupons and links. With that said…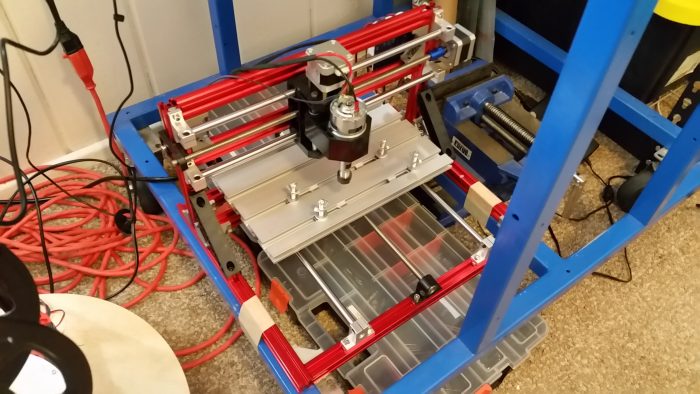 I purchased a 3018 desktop CNC machine, as a learning curve accelerator for a bigger project. I plan on welding up a larger, better, and more accurate cnc machine, and wanted to garner what knowledge I could, and perhaps parts, from the 3018. I bought my desktop cnc machine from a vendor called 'chinacnczone' on ebay. For the same price I wish I had ordered through Amazon for the shipping speed, and shipping return options, but I had a custom shipping requirement.
Communicating with them wasn't entirely smooth, there was a solid language comprehension difference, but I ultimately got my package via a FedEx shipping option. I'm assuming chinacnczone is the same as the China CNC Zone website(opens in new tab), if you want to see their products, but their product offering is almost exactly the same as anyone else's offering.
The total spend was $210.83, and I got the 'upgraded' version, which means the plastic molded parts are slightly beefier than the previous design, and it included an ER11 collet. Unless you plan on only engraving lightweight woods, you really need an ER11 collet to secure your bits/mills.
The 3018 Specs that are worth noting are these:
CNC Software = GRBL Control
Windows XP,7,8,10 Compatible
Power: 12v-24v 110AC – 240 AC (I have a 110ac in 12v out model)
Spindle: 775 can size motor
Collet: ER11
Work Area: 300(X)mm*180(Y)mm*40(Z)mm
Stepper Motors: Nema 17 equivalents?? I Think.
I ordered a few 1.2mm end mills, knowing I'd want to do more than engrave with the included carbide engraving bits. They were again cheaper on Ebay, where I purchased mine, but I waited about 2 weeks to receive them.
I initially milled into foam board, and realized everything was mirrored. It was a simple mapping fix in the GRBL Control software to flip the y axis, and everything was pretty good from there. See the Grbl GitHub documentation here, for how to invert an axis. You can also leave a comment, and I will share whatever help I can. With the right motor speed, depth of cut, and motion speed, I was able to machine designs out of a 1/4″ thick piece of hobby walnut with fairly acceptable results.
I've posted some Pros and Cons, starting with the negatives first, and ending on a more positive note, but the real challenges, came from the whole design to machining process. Its really 3 steps. Step 1 is Design. Step 2 is G-Code and Path Conversions. And step 3 is Milling Operations. I got a little hung up on step 2, converting designs into appropriate g-code tool paths.
Depending on what you'd like to machine, a design can be fairly complex, and that relies on design skills. My challenge came from being unfamiliar with Fusion360 tool path tools, and Fusion360 in general. I generally use FreeCAD or DesignSpark Mechanical, and so I took another path to convert my designs to the appropriate 'gnc' or 'nc' files that GRBL utilizes. I'll post on that later since its hefty, and beyond the scope of this post.
Cons:
No end stop limit switches. This can be added on… but for how cheap they are, I'd have paid 10 more bucks to have them come with it.
There is more play in the pre-assembled Z axis assembly than it seems there should be.
The actual control board I received has an integrated processor, and is not the one pictured with the Arduino Nano(clone) mounted on headers. I had hoped to be able to flash other software on to the handfuls of spare Nano's I have to be able to test out different open source controllers, whilst always maintaining a fully functional 'backup'
The 775 Spindle is hardly a spindle, as it doesn't really seem to have any additional improvements to bearings, efficiency, or cooling. It's really just a 775 size motor, with limitations on RPM due to voltage input/power source.
Instructions. Its what you expect I guess. Atrocious, and almost nonsensical after translation to English. The directions are super unclear, and the order of things is actually wrong, making certain things almost impossible later without re-assembly. IE mounting the control board, when you have to slide nuts into a channel that has already been firmly locked down.
Fit and Finish. Overall it wasn't bad. My main gripe would be the lacking finish quality on small bits. I had to grind/lap one of the linear rail mounts to get a rail to fit. The 6mm m5 screws referred to in the instructions were MIA. So I had to get washers from the hardware store to make use of 10mm m5 screws that were otherwise too long. A handful of the nuts seemed to be really poorly tapped, and whatever metal materials used in general for hardware, a tiny bit soft.
Pros:
The price is excellent. A hobbyist on softer, and decorative materials could do a ton with this. With the right end mill, and some experience, its easy to get this to do some pretty good stuff at a small scale. Understanding its limitations, You couldn't reasonably expect more.
Fit and Finish was a mixed bag. I really do like the red anodizing on the extrusions, and the 'upgraded' plastic bits were pretty beefy.
The 775 motor is not a pro, but I felt it could be addressed since I was really critical of it. For the price point, you couldn't expect much more. It will do what its advertised to do, and I intended on upgrading the spindle anyway.
Should you buy one?
As a hobbyist, I'd certainly make sure I own a few other tools first. Like a TS100 soldering iron, and a 3D Printer, because you'll likely get way more use out of those.
If you have those other indispensable tools already, and you don't intend to do more serious machining that light weight hobbyist stuff and engravings, then yes, buy a 3018 desktop cnc machine. If you want a bigger better machine look into a DIY machine like Nikodem Bartnik has created. His YouTube channel is here: Nikodem Bartnik. Or look at a much much more expensive commercially available machine.