More Motors, More Rotors, More Better
Fore reliability and redundancy reasons, the little hot rod of a quad I previously built is turning into a hexacopter. Some of the electronic bits, and firmware are getting an upgrade as well, but thats part 2.
The featured image is a dry fit up of the airframe, and some of the bits and bobs scalped from the quadcopter. Check out the parts list below, and the fabrication photos.
Frame Parts List
PartManufacturerWeight GramsQTYApproximate PriceBuy It Linky
Top Plate
3mm Carbon fiber 200mm x 300mm
Arris
N/A
1
$32.98
Glossy – Buy It
Matte – Buy It
Bottom Plate
2mm Carbon Fiber 200mm x 300mm
Arris
N/A
1
$39.98
Glossy – Buy It
Matte – Buy It
Motor Booms
12mmx10mmx500mm Carbon Fiber Tube
Arris
N/A
2
$13.88
($27.76)
Buy It
Motor Mounts
12mm Aluminum
Shaluoman
8g
2
$14.99- Amz($29.98)
Buy It
Boom Frame Mounts
12mm Aluminum Tube Clamp
Shaluoman
<8g
2
$14.70
($29.40)
Buy It
I mocked up the geometry into usable templates on DesignSpark Mechanical, and then printed them to scale. I then used a water soluble gluestick, to bond my templates to carbon fiber. Out came the mask, because carbon fiber dust and the human airway don't like each other. Not unless you want the black lung… Cough Cough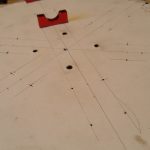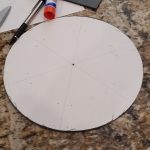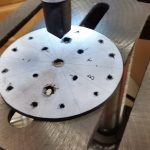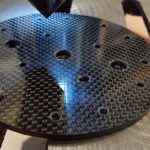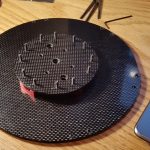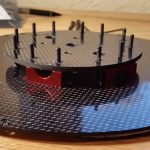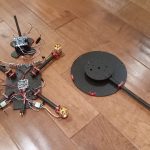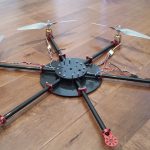 Straight cuts can be done with a fine toothed hacksaw, so long as the edges are protected with tape. Everything else is done with abrasive cut off wheels, and belt sanding. Drilling holes in CF is a pain, slow and steady with a good bit is the only way to get clean holes. Large holes need to be progressive drilled to a larger diameter. After the dry fitting, some holes were ground larger, and all edges chamfered.
Check out Part 2 for the Electronics fitment and assembly of the hexacopter build. Hexacopter Build Part 2